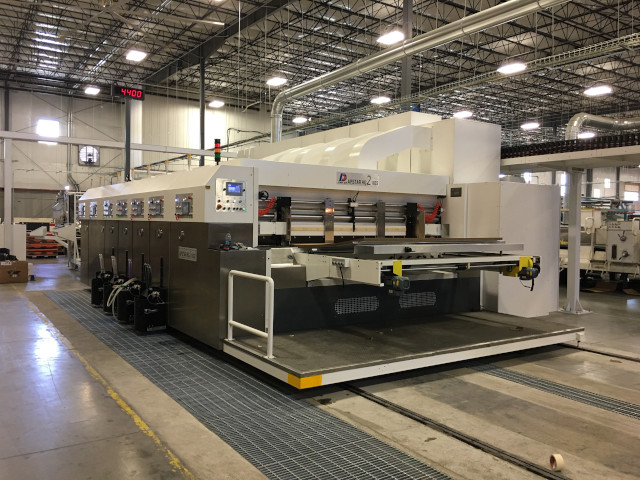 Update:
Cumberland Container is adding a new Alliance 66x126" FeedMAX Prefeeder to our Apstar RDC. Scheduled to be installed January 2022
Key Features –
Improves production performance
Automatic warp compensation -Adapts to variation in board quality
Block priming – Less jams, reducing operator intervention
Auto-centering units onto lift for consistent sheet feeding
---
Update:
We've expanded our Apstar RDC to 4 color printing.
---
For more than 50 years, Cumberland Container has manufactured quality packaging for clients across the Southeast. Through innovative design and significant investments in advanced manufacturing processes, Cumberland Container continues to make its customers its top priority.
In November, Cumberland added the next advancements to its cadrie of manufacturing equipment with the installation of its new Apstar 3-color Rotary Die Cutter and an AG Stacker. This installation will replace two other machines and do their combined work in ¼ the time it previously took
Additionally, this Apstar can be expanded to print 5 colors including 1 or 2 colors for inside print on one pass for more complex jobs in the future.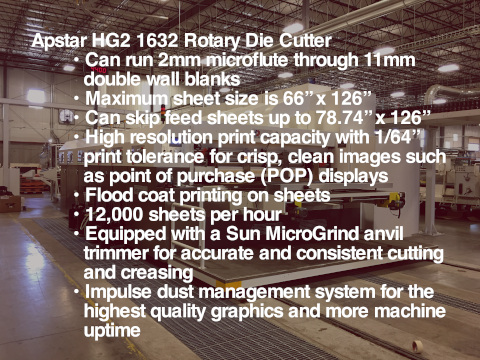 The Apstar HG2 1632 is cutting-edge, and will give customers access to print registration with 1/64" tolerance, 8 times sharper than most other machines, running die cut sheets up to 66" x 126" along with large "point of purchase" displays. This new machine has the capacity to die cut and percision print at an impressive 12,000 pieces per hour. These features give Cumberland Container production capability few box companies have. Additionally, this Apstar can be expanded to print 5 colors for more complex jobs in the future. The AG Stacker with its laser-line setups will provide great agility to neatly stack blanks for shipping. All this combined with 35% shorter setup times and ease of recalling repeat jobs can help Cumberland process your job faster.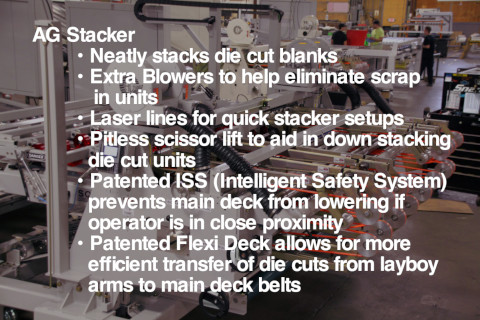 Quality packaging through the Apstar HG2 1632 is the 'how,' and providing our customers with the best and most cost effective packaging is the 'why' Cumberland Container continues to make investments in its capability. Call Cumberland Container at 931-839-2227 today to fulfill your packaging needs.