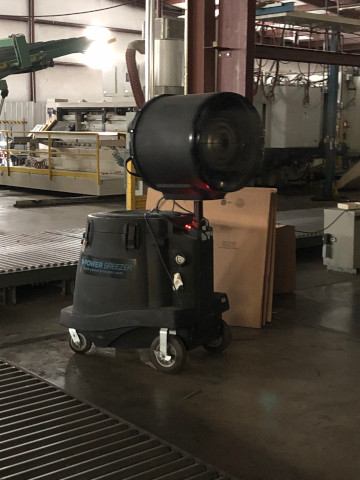 To help reboot the state's economy, The Tennessee Pledge: Reopening Tennessee Responsibly was developed by Governor Bill Lee, the Unified Command Group (UCG) and Tennessee's Economic Recovery Group (ERG) with input from health experts, state and local partners and business and industry leaders, and includes specific recommendations which enable most businesses to reopen responsibly without the burden of heavy mandates.
Cumberland Container has remained open as an essential business during the pandemic and has always been committed to a safe working environment for its valued employees. In a commitment to The Tennessee Pledge, Cumberland has taken steps to reduce the impact the COVID-19 virus could have on its operations by installing a state-of-the-art Power Breezer. The Power Breezer uses evaporative technology and provides a dispersal mechanism to homogeneously vaporize recommended CDC water-soluble disinfectants, allowing Cumberland to sanitize its entire facility on a daily basis.
Businesses across the country are being asked to provide safe working conditions that protect both employees and consumers, while securing their livelihoods, and employees are challenged to commit to protecting themselves, their co-workers and the customers they serve. Cumberland Container is proud to provide the safest work environment possible and will continue to make its employees and customers its top priorities.