Used Equipment For Sale
Cumberland Container is offering several pieces of used manufacturing equipment for sale. For enquires and pricing, contact us.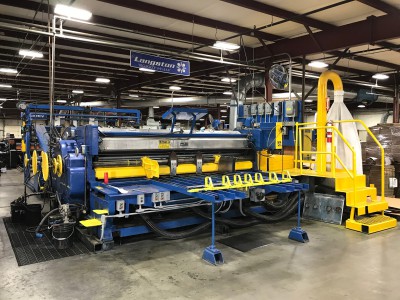 64" X 144" Langston 2-Color Flexo Printer Slotter (1952), S/N 6691
Machine Specifications
Vacuum Assist Feeder

Steel Print Cylinders With Matthews Lockup

Flexo Line Conversion Print Stations

Die Cut Attachments

Right Angle Scrap Conveyor

146" Bostitch Sheet Stacker Model 64/146 Sn 268
Gallery
Highlights and Included Parts
Minimum Blank 19" x 20" Maximum Blank 77 x 142"
Minimum width panels 4-5/16" x 3-3/16"
Installed new bearings, seals, wiper/rubber roll and anilox in Print #2 in April 2017
Installed new kicker bar in December 2017
4 - T-Slot Heads for attaching hand holes attachments
6 - Anvil Heads along with multiple replacement rubber anvils
Includes multiple misc. attachments - hand holes, corner cut outs, etc.
Includes one of each – Anilox, Rubber Roll and Feeder Cores

Fully Functional and In Operation in Our Monterey Tennessee Factory
For enquires and pricing, contact us.